History: Now and Then
All-Risk Emergency Response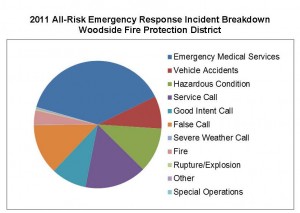 In the 1920s when Woodside Fire Protection District was founded, nearly all calls for assistance were for fire responses.  Today more than 60% of all calls are for Emergency Medical Services (EMS), and 12% are for a variety of fires including wildfires, vehicle fires, and residential and commercial structure fires.  Woodside Fire Protection District responds to more than 4,500 calls a year including medical, fire, traffic accidents, hazardous materials spills, and special operations.  From its roots as an all volunteer fire department in 1924, Woodside Fire Protection District has transformed into an "all-risk" operation to meet the needs of the community.
History of the Woodside Fire Protection District
Starting in 1924, many local residents of Woodside and Portola Valley gave freely of their time, at great risk to their personal well being, as volunteer firemen of the Woodside Fire District. Other civic-minded citizens served the community in the capacity of elected fire commissioners. These men banded together with a single purpose: to provide aid to their neighbors in time of emergencies and against the ravages of fire. Just like these "founding fathers" of the Fire District, today's firefighters are dedicated to the mission of serving its communities in the same capacity as their former fire brothers and sisters.

Not Your Father's Fire Department
The world has changed in so many ways, and with this change has come the need for the fire service to expand, modify and keep abreast of an ever-changing environment. Today's "firefighters" do more, much more, than just fight fires. In the 1960s, it was evident that firefighters were dying at an early age, largely due to the constant exposures to smoke from the combustion of materials such as plastics and foams, materials not used in earlier years. Firefighter fatalities were placed in the forefront for change, and new laws were passed to protect firefighters from these toxins. Self-Contained Breathing Apparatus (SCBAs) became a regular part of firefighter gear. In the 1970s, hazardous materials and new chemicals provided firefighters with additional challenges. As a result, hazardous material ("Haz-Mat") training was mandated, and new procedures and protocols were adopted into law. The 1980s bought a new era of emergency medical services (EMS). As a result, engine companies had to remove hand tools from their apparatus to make room for defibrillators (for treating sudden cardiac arrest) and new medical bags containing the requisite supplies to response to a wide variety of medical incidents. The 1990s saw the advent of "special operations," confined space, swift water, trench, low-angle, high-angle and rope rescues. Today firefighters are required to maintain a myriad of certificates and qualifications to meet Insurance Service Organization (ISO), OSHA, CA OSHA NIOSH and NFPA standards. The mission of the WFPD remains the same as it was those many years ago: to protect life, property, and the environment through prevention, education, preparedness, and emergency response.